Doug Edmiston
1959-2000
Douglas Allen Edmiston was born on October 22, 1959, to Sibley and Willetta Edmiston while they were serving as missionaries in Guanajuato, Mexico. He was the youngest of seven siblings: Lorraine, Duane, Dan, Dick, Linda and Leandra.
At the age of twenty-nine, on a beautiful September afternoon, Doug--owner and operator of StumpBusters, Inc.--knocked on the door of a potential customer. Her granddaughter, Roseann, answered the door, and an instant spark between the two kindled eleven years of a growing friendship and love, a growing faith in God, and a growing family that today includes Anthony, 17; Ryan, 8; and Desiree, 6.
All who shared in the privilege of knowing Doug admired his strength, his creativity, and his compassion. He would do anything for anyone, and he added beauty to so many lives. He worked hard, and he played harder. He has given his wife and children security and abundant memories of family fun and adventure. Each and every day he showed his love for them in his many acts of generosity and thoughtfulness. He has left them each with the words, "I love you so very much, and I have always loved you." Today they want to say to the best husband and father ever, "We love you so very much, too, and we will always love you."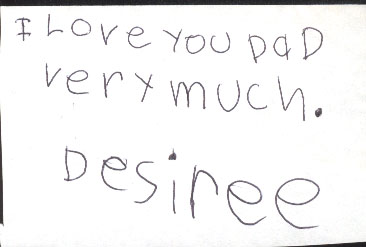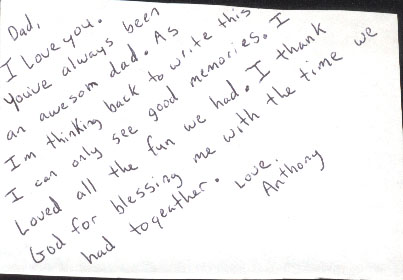 Doug passed away in May and we made it through okay until the holidays. Right after Christmas, I realized that I needed some help and so did the kids....

Above is a sentence from the short story about my love, and the loss of my husband, Doug. Click on the link below or the text above to read it in it's entirety. May God bless you as you read how He was faithful to me as I endured the worst heartbreak a woman can imagine.

from: Willetta Edmiston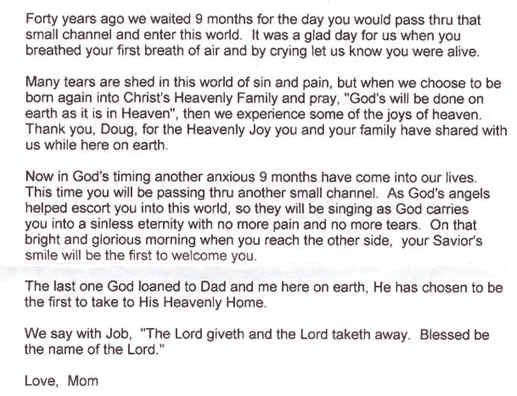 from: Leandra Lawrence


from: Roseann Edmiston Dunlevy

In Memory of Doug
Loving Husband, Loving Father
You came into our lives an answered prayer from above,
To me and Anthony came so much love.
We were married and soon after came Ryan our son;
You built toys and played with him, you had so much fun.
Only eighteen months later came our Little Miss Desiree,
Your only daughter, your sunshine, she was in your heart to stay.
You touched so many hearts, always helping, always giving--
Working hard, playing hard, making every day worth living.
We thought we could grow old together but the Lord has different plans;
My only peace and comfort is knowing you're in his hands.
You fought so hard to stay, it was here you wanted to be--
You couldn't imagine what could compare to being with your family.
But now you're in Heaven, completely at rest,
And with God's help we're all doing our best.
You're in our thoughts, you're in our hearts each and every day;
We're so thankful for all the memories, they are with us to stay.
[ d1 ] [ d2 ] [ d3 ] [ d4 ] [ d5 ] [ d6 ] [ d7 ] [ d8 ] [ d9 ] [ d10 ] [ d11 ] [ d12 ] [ d13 ] [ d14 ] [ d15 ] [ d16 ] [ d17 ] [ d18 ]
[ The Engagement ] [ Wedding Album ] [ The Reception ] [ Hawaii Honeymoon ] [ Disneyland ] [ Ryans Birthday ] [ At Home ] [ At Play ] [ Christmas ] [ Doug Memorial ] [ Mother's Day ] [ Desirees Birthday ] [ Anthony ]